AC Repair & Service in Jasper, AR
All American Refrigeration, Heating & Cooling proudly serves the Jasper, AR community with top-notch heating and air conditioning solutions. We cover a wide range of HVAC services, from AC repair and installation to commercial refrigeration, addressing all your heating and cooling needs.
Founders Phil and Steve Isley embarked on their journey in 2008, at a time when numerous local heating and air conditioning businesses were ceasing operations. The father-son duo was convinced that the key to a prosperous enterprise lies in transparency, reliability, excellence, and customer contentment. This conviction led to the creation of our flourishing company.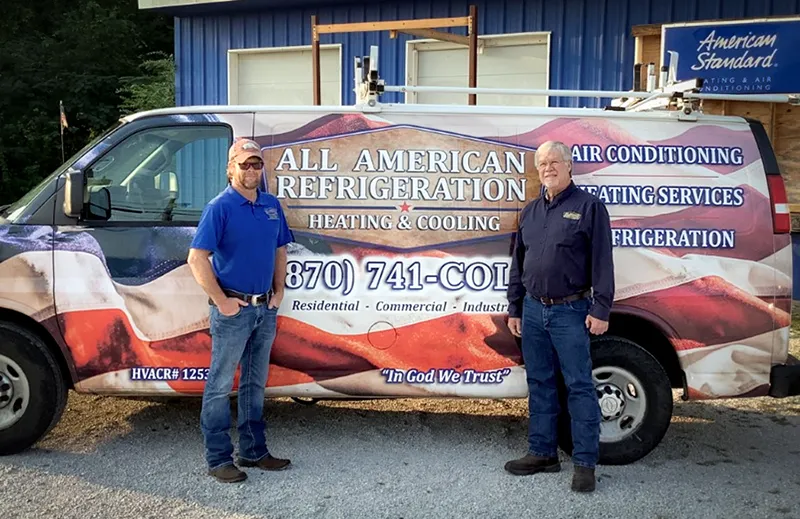 Our steadfast dedication to offering outstanding air conditioning service and repair shines through our long hours and diligent work. We have evolved into one of Jasper, AR's most accomplished HVAC Contractors.
For over 15 years, All American Refrigeration, Heating & Cooling has endeavored to provide a unique blend of remarkable performance and responsibility, genuine work, and competitive pricing. Our uncomplicated motto is: always do the RIGHT THING.
All American Refrigeration, Heating & Cooling is devoted to fostering enduring relationships with our clients in Jasper, AR, without any concessions. We stand behind our heat & air service and aim for total customer satisfaction in every AC repair project we undertake.
Our Dedication To Excellence in Jasper, AR
All American Refrigeration, Heating & Cooling is focused on developing a team of highly capable professionals who are committed to absolute customer satisfaction. We put in the necessary time and effort to ensure each HVAC project is executed promptly and within the allocated budget. We are determined to be Jasper's most esteemed refrigeration and HVAC contractor.
Beyond providing superior HVAC services, we prioritize honesty, keeping our word, and maintaining open lines of communication with our valued customers. Whether you need HVAC installation, AC repair, or maintenance service for your heating or cooling system, you can trust us for timely, cost-effective, and honest heat and air service.
No Task Too Large Or Too Small
At All American Refrigeration, Heating & Cooling, we are prepared to take on any job, irrespective of its scale. From a basic AC repair for your residence to an all-inclusive HVAC installation in your business complex, we are the heat and air service provider to contact.
As a preferred dealer of York, Amana and American Standard equipment, our technicians are professionally trained to tackle any heating or air conditioning problem you encounter. If the problem is beyond repair, we can install new equipment that will adequately meet your needs and fit your budget.
Call us at (870) 741-2653 to schedule an appointment.